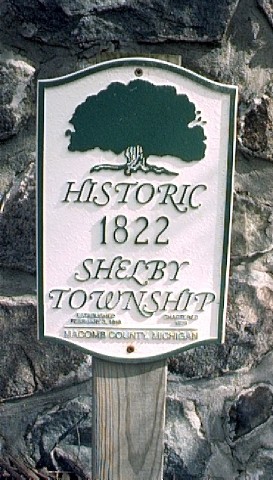 The Shelby Township Historical Committee has a historic building marker program open to any home (or business) 50 years old or more. The marker consists of an attractive cast aluminum plaque that displays the date of your home's construction and the township logo. Unlike many designated " Historic Districts ", the marker program is voluntary and does not impose any property restrictions.

WHY APPLY FOR A MARKER ?

With the number of historic buildings in Shelby Township and with the construction boon underway, properties of historic interest are being lost forever without a clear record of their history. The marker program is a way of enlisting community involvement to help preserve Shelby Township's past.

HOW TO APPLY FOR THE HISTORIC MARKER

Request a Historic Marker application from the Shelby Township Historical Committee. Supporting documents are necessary to document the history of your home. Upon acceptance of your application, you will be presented with a Historical Marker commissioned exclusively for your home.

HOW TO RESEARCH YOUR HOME'S HISTORY

1. Start at the township assessor's office. Request a copy of your home's current assessment using the parcel number recorded on your deed. The year of construction is usually part of the assessment record, but may not be correct if the house has been razed and rebuilt or moved.

2. Ask neighbors. Names and dates, and especially addresses or phone numbers of previous owners are invaluable in researching the history of your home, even if they are not precise. Write to former owners and ask them for information, and include your phone number. Many people are glad to know someone appreciates their old family home and are happy to provide names, dates, anecdotes, photos and papers.

3. Go to the library. Look at old county atlas books and find the location of your house. Record the year and listed owner. Search county directories and microfilm records of the U.S. Census and survey reports, arranged by township and section, to obtain more detailed information on the occupants. Check local history books. Compare illustrations of historic homes to the construction and style of your home, but remember in rural areas homes were often built ten years or more "behind the times" of their design. Many homes were also subject to remodeling to follow current design trends and may appear newer.

4. Ask the Historical Committee. The Committee members will be happy to talk about the history of your home or neighborhood.

5. Check with your title insurance company. Ask if an abstract of title is available. There will usually be a fee, but it will save much work. Continue your search at the county clerk's office. Expect to spend a great deal of time searching deed books and cards if you do not have an abstract. Start by researching your purchase of the property and record the documents. Then search the index cards for the name of the former owner, look it up in the deed book, and continue the process backward. If your house changed hands many times, or was sold by land contract, you may not be able to trace all the owners. Record as much information as possible.

6. Sort and index your documents. Create index cards or a table listing buyer, seller, date of sale, and liber and page numbers for each property transaction. Index all supporting documents, including photos, copies of newspaper clippings, references from microfilms and books. Arrange them in chronological order.

7. You can order a copy of the original "Land Patent" describing the sale of the land from the U.S. Government to the original purchaser. The Department of the Interior's Bureau of Land Management charges a nominal fee if you can provide the legal description, date of sale, and name of purchaser. If you do not have that information, provide the legal description of the property, and the BLM will charge a research fee to find that information for you. The extra time spent looking at deed ledgers is well worthwhile.